From ballot to battle: the resurgence of violence in Turkey's Kurdish region
Comments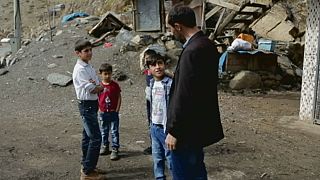 Turkey's Kurdish population is likely to be hugely influential in the outcome of the country's general election, but its potential electoral success comes amid soaring tensions.
It was a surge in support for the pro-Kurdish opposition HDP party that prevented the ruling AKP from retaining its majority government in the previous election in June. Turkey has since been gripped by a wave of violence that has evoked memories of the 1990s conflict between Turkish forces and the outlawed PKK Kurdish separatists.
Why Turkey is heading to elections again on euronews</a> with <a href="https://twitter.com/MuratYetkin2">MuratYetkin2pic.twitter.com/aem0YRiErF

— Bora Bayraktar (@Bora_Bayraktar) October 29, 2015
A ceasefire agreed in 2013 is in tatters amid brutal killings on both sides. It is against this background of bloodshed that the election is taking place and some observers fear that it may only entrench mutual hostility and instability.
In this edition of Reporter Valerie Gauriat travels to the Kurdish heartland in the southest of Turkey to gauge the mood among Kurds ahead of the ballot and find out what, from a Kurdish perspective, is fuelling the renewed fighting.
Click on the video to see her report in full.