Kosovo takes step towards joining European Union
Comments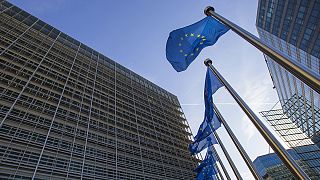 Kosovo has signed a trade and investment pact with the EU, which is the first step on Pristina's long road to possible full membership of the bloc.
The agreement aims to boost competition and make it easier for companies there to export to the EU.
Kosovo hopes economic growth will tempt back those who left the country to seek new lives elsewhere.
"Up to January this year, there was a significant number of Kosovars who migrated to the EU, especially to Germany. But we manage to stop this flux of migrants abroad and we have reintegrated about 20.000. We have also committed ourselves to reintegrate all those who come back," said Isa Mustafa, Kosovo's prime minister.
However, some are angry with the government over a recent agreement with Serbia to give more powers to Serb-dominated areas in Kosovo.
Protesters clashed with police on Saturday, one day after opposition lawmakers fired tear gas inside the parliament in protest at the deal.
Kosovo announced independence from Serbia in 2008.
Belgrade refuses to recognise it as a sovereign state.