EU roasts Starbucks, slams Fiat Chrysler over 'illegal' tax deals
Comments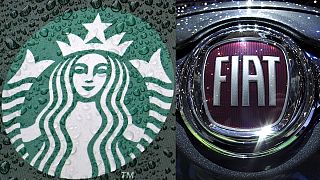 Starbucks and Fiat Chrysler should pay back between 20 and 30 million euros in taxes after the European Commission ruled on Wednesday that illegal tax deals unfairly reduced how much they had to pay.
Starbucks struck a tax agreement with the Netherlands, whilst Fiat had a similar accord with Luxembourg.
EU competition officials say the Dutch subsidiary of the coffee chain paid only €600,000 in taxes last year; the finance arm of the Italian-American carmaker paid just €400,000.
The Luxembourg deal was brokered in 2012 when European Commission president Jean-Claude Juncker was prime minister of the country.
"I don't really speculate that much about the past. I think the case what we do can change the future to make sure that every company contribute with their fair share of taxes," said
Margrethe Vestager, the EU commissioner for competition.
"So there are not only some companies, but all companies actually contribute. And looking forward and working with the parliament and with the member states I think we can achieve that."
A group of investigative journalists published a report one year ago detailing the number of 'sweetheart' tax deals agreed under Juncker's premiership of the Grand Duchy.
The International Consortium of Investigative Journalists said that 340 companies benefited from such arrangements during his 18-year tenure.
"Unfortunately, it's naive to think that today's decision will make all multinational corporations start paying their taxes out of fear of getting caught by the Commission," said Tove Ryding, Coordinator of Tax Justice at the European Network on Debt and Development (Eurodad).
"It's obviously still worth the risk to try and avoid taxes, when the worst that can happen is that a few of them get caught and have to pay their taxes, while the rest of them can continue enjoying a free ride."
Both the Netherlands and Luxembourg said they disputed the Commission's ruling.
Starbucks plans to appeal. Fiat denies the agreement amounted to state aid.
The EU executive is still investigating similar deals agreed by Apple and Amazon.