EU calls on Russia to end bombing campaign in Syria
Comments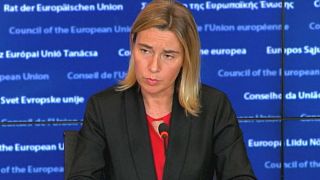 The EU is piling pressure on Russia to end its aerial bombing campaign in Syria.
Foreign ministers, who have been meeting in Luxembourg, are warning that strikes designed to support President Bashar al-Assad could deepen the civil war, which has left around a quarter of a million people dead.
Russian incursions into Turkish airspace and air strikes not directed at ISIL militants, but at relatively moderate opposition groups, have alienated the West, while leaving EU and UN diplomacy in disarray, according to diplomats.
The EU's foreign policy chief Federica Mogherini has pointed to the role Russia could play in encouraging Syria to begin a political transition.
"We, as the European Union, can engage directly with Russia to see if a political transition can start, if a political process can start, guaranteeing that everybody sits around the table for defining the political process," Mogherini told reporters.
The EU's position on Assad is unclear. Ministers failed to agree among themselves whether he should have any role in ending the crisis.
France says the president could only be involved in a transition in a symbolic way and must not be there at the end.
Britain says Assad cannot be allowed to remain as president, but is willing to discuss how and when he might leave.
At the Luxembourg meeting, ministers agreed to broaden EU economic sanctions criteria to people benefiting from Assad's government. It is a move essentially aimed at freezing the assets of the spouses of senior figures – although no names have been added to the EU's list.