Migrant crisis dominates Merkel and Hollande's historic EU parliament address
Comments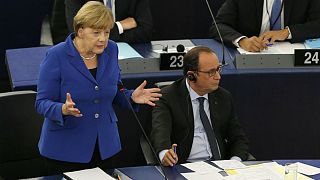 Europe's migrant crisis has dominated historic speeches by French President Francois Hollande and German Chancellor Angela Merkel.
Only together we will succeed to manage the enormous task of integration that awaits us
They have addressed the European Parliament together for the first time at a session in Strasbourg.
"Calling into question the free movement of people, by returning to internal borders, would be a tragic error," said Hollande.
"But pretending that Schengen, with its current way of functioning, allows us to face border pressures would be another mistake."
Merkel took to the floor as Germany marks 25 years of reunification. She reiterated that EU countries must act together in responding to the migrant influx.
"Only together we will succeed to manage the enormous task of integration that awaits us," said Merkel.
"Part of it is that we can rightly expect that the people that are coming integrate in our societies.
"But in return, we have the obligation to treat people who come to us, because of poverty and hardship, with respect. And not as if they were an anonymous mass, independently of if they can stay or not."
Merkel also warned fellow EU leaders against succumbing to nationalism in tackling the migrant crisis.
In addition, she declared that the existing "Dublin" rules had failed.
Under the Dublin regime, migrants are supposed to seek asylum in the first EU country they arrive in, but
over the summer most have refused to register in countries such as Greece, which is in an economic crisis.
Instead, they have headed overland to wealthier member states to the north, mainly Germany and Sweden, believing that life will be better there.
The last time German and French leaders appeared together in Strasbourg was 26 years ago. Helmut Kohl and Francois Mitterand spoke shortly after the fall of the Berlin Wall.