Discrimination on the rise in Europe
Comments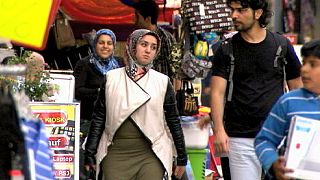 More Europeans believe racism is a problem in society, according to an EU report.
The views of twenty eight thousand people formed the basis of the survey.
It found that sixty four percent of those quizzed believe discrimination based on ethnic origin is widespread.
That is eight percentage points higher than when the same study was conducted in 2012.
So is Europe becoming more intolerant?
"It is always more intolerant when there is a crisis. It's part of our history and we must learn from this history and be aware of this intolerance. We must combat intolerance because the survival of Europe's society depends on our ability to live together with different cultures and different religions." said Frans Timmermans, First Vice-President of EU Commission.
The same survey found only 61% of respondents said they would be fully comfortable with a colleague at work being Muslim.