Emergency meeting on migrant crisis reveals EU divisions
Comments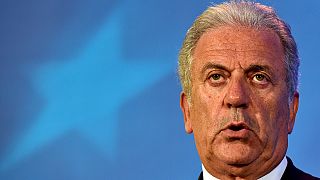 There was a rally in favour of helping the waves of migrants and refugees arriving in Europe in Brussels on Monday as EU Interior Ministers held an emergency meeting.
But there was little urgency revealed in the final communique; in fact, a hardening of positions under pressure from member states who don't want any migrants on their soil.
"But for our proposal on 120,000 we did not have the agreement that we wanted. The majority of the member states are ready to move on, but not all," announced the EU's Migration Commissioner  Dimitris Avramopoulos.
Cash-strapped southern European states are demanding relief from carrying the burden, but eastern European states are even poorer and are rejecting quotas out of hand.
Hungary and Slovakia are leading the opposition, even if the Hungarians would benefit from a relocation programme as nearly 60,000 migrants would be taken off their hands. Budapest says the entire system is wrong, and will only attract more people.
"From the closing remarks of the meeting it's clear that the leaders made some concessions towards the hardline politicians in Europe. In the future for example the asylum requests might be judged outside of the EU, and they will also strengthen the border protection at the EU's external borders," reports euronews' Sándor Zsiros.