Truckers fret over Calais safety
Comments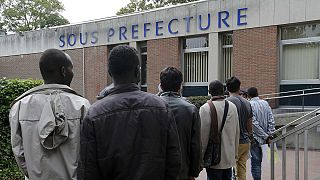 Lorry drivers say tougher security measures are needed at the French port of Calais to dissuade would-be migrants from trying to enter the UK inside their trucks.
France has built a security fence, but truckers believe that it doesn't go far enough.
Many of the lorry drivers sometimes leave their trucks open for the night – at least when there is no cargo inside – so the migrants cannot damage the lock.
Haulage companies now load and refuel inside a fortified parking area.
But many drivers say they still feel fear for their safety; they are worried about how far someone who is desperate to reach Britain will go.
Lajor Szögi, a Hungarian driver, told euronews that France should call in the military.
"We can only board the ferry during the day because at night we have a stream of migrants trying to clamber aboard," he said.
"They climb on the back of the truck, on the top of the truck. They cut the tarpaulin. It is catastrophic.
Szögi said that "the British (authorities) are punishing us if we take someone over, but its not our fault. '
British police can fine drivers and their employers up to the equivalent of 2,700 euros for every would-be asylum seeker or migrant who is found in their truck.
Britain's Freight Transport Association, a group representing the interests of the haulage industry, says delays on both sides of the Channel are hitting the sector hard.
It estimates that increased security measures due to the migrant crisis, strikes and protests costs UK hauliers some 750,000 pounds per day (102,000 euros).