Belgium to discuss measures to deal with migrants entering country
Comments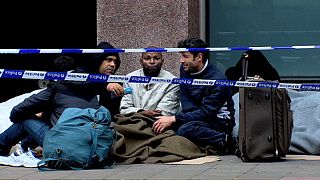 From early in the morning, around 400 people have been queuing outside the immigration office in Brussels. Those seeking asylum in Belgium need to register there. The look of exhaustion on their faces is obvious. Many have waited in line overnight in the desperate hope that they would be attended by the staff inside. One man from Iraq named Ahmed agreed to speak with euronews but only if his identity was hidden:
"I arrived here yesterday. I slept on the ground. I have no water and no food. It was always Europe, Europe, Europe. We believed it would be different here and certainly not like this," explained Ahmed.
Since last month, the Brussels Immigration Office has been completely overwhelmed with the number of people looking for assistance.
"The Immigration Office has created two queues. On one side, it's for those who were at the office yesterday. They received a paper, which gives them priority in the application process today. On the other side are the people who have just turned up today. They will have to wait on the street, maybe until tomorrow," explained euronews' correspondent Loïc Verheyen.
The majority of the people arriving in Europe are from Syria, Iraq, Afghanistan, Somalia and Eritrea. They enter the Schengen Area at 3 main locations. Greece after passing through Turkey, Italy via the Mediterranean Sea and Hungary through the Balkans.
According to the Dublin agreement, people have to register in the country where they first arrive. But this system has come under fire by human rights groups who claim it is flawed.
"The reason why the majority of migrants and asylum seekers attempt to reach one country in particular is because they want to join family members or friends. However, this isn't being into account," explained Tristan Wibault, a human right lawyer and member of the Belgian Human Rights League.
So far in 2015, 340,000 people have reached Europe. This is considerably more when compared to 280,000 migrants who made it to the EU in 2014.
This situation has forced German Chancellor Angela Merkel to announce that Germany would stop sending Syrian people back to their entry point in Europe.
However, other EU Member States are taking a cautious approach. Among those is Belgium, which does not want to follow Berlin's lead, just yet.
The Belgian government is expected to discuss the issue on Friday, August 28. A council of European Union ministers in charge of migration is due to take place on October 8.