The long road north: thousands of migrants now taking the Balkan route
Comments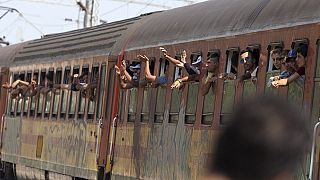 The next stage in a gruelling journey to Europe takes thousands of Syrians, Afghans and Iraqis from Greece to the Former Yugoslav Republic of Macedonia (FYROM).
In the town of Gevgelia, they queue anxiously for a passage north to the Serbian border, with the hope of moving on to Hungary and the open borders of the Schengen Zone.
Ahmed was among those in the Gevgelia station. A Syrian refugee, he had obtained travel documents for himself and his pregnant wife.
"My ambition is for my son and wife to be in a good place and for me to have work," he said. "I am not asking for help in Europe. I am qualified to work. As soon as I get the permission to work, I will."
Three trains operate along the route daily, but supply does not meet demand. An estimated 2,000 people per day are crossing over from Greece and Amnesty International has labelled the route through the western Balkans the "busiest irregular passage to the EU."
The struggle doesn't stop once they get on the train. Several countries have shown hostility towards migrants, with Hungary expected to complete a four-metre high fence along its border with Serbia by the end of August, 2015.