Liberland: utopian tax-free micronation or state of mind?
Comments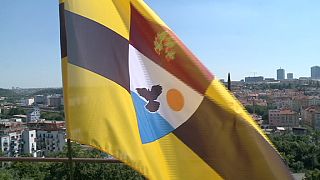 Tucked away on the banks of the Danube is the tiny, would-be country of Liberland. The former Czech politician who declared himself its founder and president says it is a legitimate and viable state and is pushing for international recognition. But Vit Jedlicka is facing tough opposition from Serbia and Croatia, who have been in dispute over the territory since the break-up of the former Yugoslavia.
Right now we are actually in Liberlandian waters. We just crossed the border over there. This is all Liberlandian waters
Undeterred, Jedlicka has been issuing Liberland passports and appointing ambassadors in his quest to carve out a new nation in the Balkans. He has even set up a national airline.
Welcome to Liberland! The new European country with no taxes (or residents) http://t.co/xd0YcLAuW3 via @TIMEPoliticspic.twitter.com/HEduDI33ij

— Benita Nisaro (@benitanisaro) 22. Juli 2015
In this edition of Reporter, Valerie Zabriskie travelled to the area to meet some of its aspiring citizens and the president himself, who insists his vision is about much more than creating just another tax-haven.
Click on the video to see the story in full.