EU migration talks end without a deal
Comments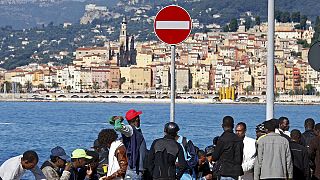 EU talks aimed at finding a solution to the Mediterranean migration crisis have broken down in Luxembourg.
No deal was found as interior ministers met to debate a European Commission plan to redistribute migrants more equally across member states.
Southern nations such as Italy and Greece want other countries to do more to help and ease the burden on their strained resources.
"Those who doesn't have a right to obtain asylum should be repatriated. That's the corner of the system. if it works, we could, in the best manner possible, manage a phenomenon which doesn't have a solution at the click of one's fingers," said Angelino Alfano, the Italian interior minister.
"If it doesn't work, we have a problem ….and this will always become a more European responsibility."
The European Commission wants to redistribute some 60,000 migrants between 25 EU countries.
But the bloc is divided on whether it should be mandatory or not.
The UK, Denmark and Ireland already have opt-outs from the scheme.
Germany's interior minister Thomas de Maizière told reporters that his counterparts had "heard from those sceptical states central and eastern Europe."
"They can well imagine participating, but on a voluntary basis – mot as an obligation," he said.
Negotiations will continue between diplomats, reports euronews' Sandor Zsiros, ahead of an EU summit at the end of June.