Renzi seeks more EU help on migration crisis
Comments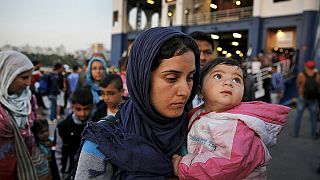 Matteo Renzi, the prime minister of Italy, has said that his government will hurt the EU if leaders don't do more to help the country deal with the migration crisis on its shores
Renzi told the Corrierre della Sera newspaper that he has a "Plan B" if his European counterparts fail to accept a fairer redistribution of refugees and asylum seekers.
"If the European Council chooses solidarity, then good. If it doesn't, we have a Plan B ready but that would be a wound inflicted on Europe," he said, without giving details. "We want to work to the last moment for a European response."
At least 100,000 migrants have entered southern Europe by boat since the start of the year, according to the UN's refugee agency. More than half of that number arrived in Italy.
Renzi is pushing for a widespread reform of the so-called 'Dublin regulations', which assign most asylum seekers to the EU country they first enter; southern EU members say it places an unfair burden on them as they are left to shoulder the majority of any emergency response.
The European Commission last month unveiled a plan to relocate 40,000 asylum seekers, including 24,000 people from Italy, but it is struggling to win widespread support amongst fellow EU governments.
"We are not aware of any plan B, we saw the statement that Mr Renzi has made," said Natasha Bertaud, a European Commission spokesperson.
"We understand that some people think that the proposal goes too far, some people think that this is not going far enough. We think it strikes the right balance and that is what we will be defending."
Under the EU executive's plan, numbers taken in by other countries would be calculated according to GDP and population size.
For example, Germany would take in 8,763 asylum seekers, according to the Commission's calculations, whilst France would take in 6,752.
The UK has already ruled out taking part.
The Commission plan would need the approval of the EU governments first.