Breakdown of Greek talks sets up EU summit showdown
Comments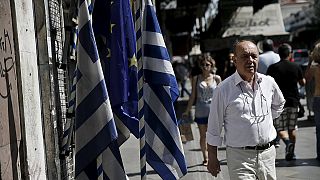 The latest breakdown in talks between Greece and its international creditors means any deal will have to be done at an EU summit.
Leaders meet in Brussels on June 25th for talks that are likely to be dominated by the ongoing Greek debt crisis.
IMF officials want Greece to find 1.8 billion euros in savings from pensions, the Associated Press news agency quoted EU diplomats as saying.
But the left-wing Syriza government has stuck to a hardline position, saying it won't accept pension cuts.
The European Commission, which has chaired talks over the past four months, hit back on Monday.
"It is a gross misrepresentation of facts to say that the institutions are calling or have called for cuts in individual pensions," said Commission spokeswoman Annika Breidthardt.
"The pension system is one of the most expensive parts of spending, it's also one of the most expensive pension systems in Europe, and therefore a reform of the pension system is part of the requirements".
Greece must pay the IMF 1.6 billion euros on the 30th of June. If it misses the payment, it will be in default.
European Central Bank President Mario Draghi said the eurozone can survive such a scenario.
"We would be entering into uncharted waters. in which we can certainly say that we have all the tools to manage the situation at our best. while all actors will now need to go the extra mile, the ball lies squarely in the camp of the Greek government to take the necessary steps," he told parliamentarians at a hearing in Brussels.
Eurozone finance ministers meet on Thursday, but little progress is expected given the current deadlock.
The Commission says to be ready for a new round of talks but if Greece comes up with a new proposal to broker a deal, euronews correspondent Efi Koutsokosta reports from Brussels.
EU sources say there is some room for manoeuvre, such as replacing some measures on pensions with cuts to defence spending, our correspondent adds.
Amongst NATO members, Greece comes second on spending in that sector in relation to its GDP behind the United States.