MEPs want EU to watch out for rights abuses in Hungary
Comments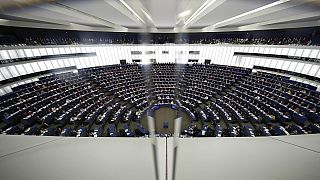 Hungary should be monitored for abuses of human rights and the rule of law, MEPs said in a motion passed on Wednesday.
They said the European Commission should "immediately initiate an in-depth monitoring process" in Hungary and to report back before September.
The non-binding resolution passed 362 votes to 247, with 88 abstentions, but it reflects a growing agitation amongst some lawmakers over Prime Minister Viktor Orban's leadership.
Orban recently floated the idea of debating whether Hungary should bring back the death penalty; capital punishment was abolished in the country after the fall of communism more than two decades ago.
His Fidesz party is a member of the centre-right EPP Group in the European Parliament, which has so far refused to condemn the Hungarian governments.
"It's a very strong message, because in fact it shows that a majority of this parliament is completely against the attitude and behaviour of Mr. Orban," said Belgian MEP Louis Michael, a former European commissioner.
"We are very shocked that and I am really surprised that the EPP, a very important party in this parliament is continuing systematically backing Mr. Orban."
The resolution drew a swift rebuke from Orban loyalists in Strasbourg, France, the second seat of the EU's only-directly elected assembly.
"About the death penalty, it is clear. It does not exists, it's only a debate. There is no intention to apply capital punishment," said György Hölvényi, an MEP and Fidesz member, in an interview with euronews.
"But the main thing is: if they would investigate all the 28 member states in such a deep way, Europe would be a better place."
The Council of Europe, a non-EU body that monitors human rights on the continent, said on Tuesday that Hungary should do more to crack down on racism.