MEPs fume over delayed TTIP vote
Comments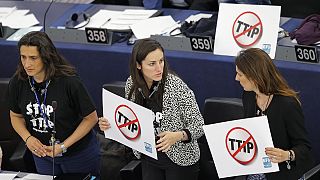 MEPs voiced their anger on Wednesday after a European Parliament vote on the controversial free trade deal between the EU and the US, known as TTIP, was delayed at the last minute.
European Parliament president Martin Schulz said he had been forced to move the planned resolution on the trade pact because more than 200 amendments had been tabled by lawmakers.
"I decided to postpone the vote on the TTIP resolution to give more time to the International Trade Committee to further reflect on the outstanding issues and to reduce as much as possible the large number of amendments tabled," said Schulz in a statement on Wednesday.
"The European Parliament needs to contribute with a clear and unequivocal position. What we should have is a strong text by the European Parliament and what we should avoid is that Parliament adopts a resolution which is neither here or there, or, even worse, is not able to adopt a resolution."
His move followed negotiations on Tuesday with party group leaders; MEPs then on Wednesday backed a motion to delay the TTIP resolution with the wafer thin majority of just two votes.
Sophie in 't Veld, a Dutch Liberal MEP, told euronews that "Martin Schulz single handedly decided to postpone the vote", adding that the move had "created chaos".
But for Manfred Weber, the German MEP who leads the centre-right bloc in the European Parliament "the rules are clear".
"If there are too many amendments and the plenary can't deal with them, then he has the right to send this back. So he earned our support so that we can discuss that properly in the Parliament," he told parliamentary colleagues to jeers from left-wing MEPs.
"What is this European Parliament, which is afraid of a debate, afraid of a vote, and afraid of citizens!!?? We need to debate this and vote on it," said Yannick Jadot, a French Green lawmaker.
Anti TTIP campaigners say it would increase corporate power, providing a charter for widespread privatisation and the 'Americanisation' of EU consumer standards.
NGOs and left-wing groups have held numerous demonstrations held against the deal throughout Europe.
One controversial proposal is create a legal mechanism that would allow investors to resolve disputes that arise from the trade deal; critics say companies might try to bypass national courts if their investments are at risk.
The European Commission, the EU's executive arm, is negotiating on behalf of the EU's 28 member countries. Any tentative agreement would also need the final approval from legislators on both side of the Atlantic.