EU unwraps plan to cut back on red tape
Comments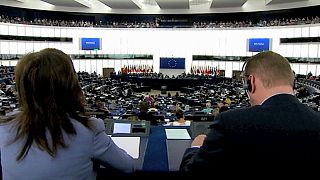 EU officials have unveiled a plan to slim down what critics say is bloated bureaucracy made in Brussels.
The European Commission says a new leaner approach to lawmaking will ease concerns from voters and businesses about the reach and complexity of EU legislation.
The EU's executive wants independent experts to scrutinise draft laws and periodic reviews of existing regulations.
"I am not bothered by the Eurosceptics because they are wrong, I am bothered because they are occasionally right. And if they are right, we have to tackle their concerns," said First European Commission vice-president Frans Timmermans.
Timmermans said 70 percent of European Union citizens thought the 28-nation bloc had become "too complicated and too burdensome."
The so-called "Better Regulation Package" would improve transparency and scrutiny of the entire EU legislative process, he said.
The move comes after British Prime Minister David Cameron won an election in the UK on platform of radically overhauling the EU and doing more to eliminate barriers to a single market.
For left-wing MEPs, the Commission's new stance is too pro-business and biased in favour of huge corporations.
"Basically what Timmermans is doing, even if he is called a socialist, is doing the will of the multinationals," said Belgium's Philippe Lamberts, a Green parliamentarian.
Timmermans, a former Dutch foreign minister, earnt his political stripes in the Labour Party in the Netherlands.
Another idea would be for the Commission to pass much less legislation over the course of the year.
On average, the EU executive churned out nearly 100 piece of legislation a year.
The goal would be to reduce legislative activity to roughly a quarter of that figure.
It has led to grumbles from some parliamentarians that they won't have as much to do as before.