Greece draws battle lines over war reparations from Germany
Comments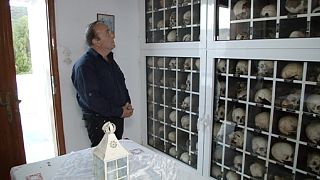 Eleni Sfoundouris, 83, is a survivor of one of the worst atrocities committed during the World War Two Nazi occupation of Greece: the Distomo massacre
"They took my family outside on the street and killed them with a machine gun. And my mother's brain was spread out on the street. It was my grandmother who found them."
"I was terrified when the Germans came into the house and threatened my father", Eleni says. "So I jumped out of the kitchen window. I just couldn't bear to see what he was going to do to my father because I had never seen anything like that before."
Eleni Sfoundouris was twelve years old when, on the 10th of June 1944, when her parents, her two younger sisters and her grandfather were killed.
She says even today, her memories of that day are vivid. She still remembers the fear and the guilt for having survived.
" If I hadn't left maybe I could have saved one of my sisters because I was the oldest one. My sisters were nine and sxi years younger than me. They took my family outside on the street and killed them with a machine gun. And my mother's brains were spread out on the street. It was my grandmother who found them."
Retaliation
On that fateful day, SS troops went door to door and massacred 218 Greek civilians in Distomo. It was part of a retaliation measure for a partisan attack on Nazi soldiers.
Survivors fled atrocities which included bayoneted babies and stabbed pregnant women.
Today
Distomo
stands as a symbol of Greek suffering during the World War Two Nazi occupation.
Sufferings many Greeks say have never been officially recognized nor compensated for by Germany.
Christos Papanikolaou has lived in Distomo all his life. He volunteers as curator for Distomo memorial.
Inside the memorial is a morbid reminder of the massacre: the skulls of those killed. Even though it happened over 70 years ago, the Distomo massacre still looms heavily over the village's collective soul.
Mr. Papanikolaou remembers what it was like when he was a child in a village in constant mourning:
"Growing up I thought the village was only full of old ladies because everyone wore black. In the village it took years for us to hear laughter, music. And the big "highlight" was happening every evening when all the people, little children and old ladies wearing black were going to the cemetery.."
Christos says not only Greeks but Germans come and visit the memorial. Germans who ask for forgiveness.
And while he doesn't blame them, he says the question of war reparations has to be settled. "There has never been a peace agreement with Greece," he says. "And secondly this story is not closed legally either because Germany has paid some money indeed but it was money for a certain purpose and not as reparations for the victims."
Kelly and Christina Stamoulis' late father was the lawyer who had filed for war reparations claims of 30 million euros for the families of the victims of Distomo. Although approved by the Greek supreme court, the case is still pending since it was never signed by the Greek justice minister.
Moral issue
Kelly Stamoulis who is now the lawyer for the Distomo case with her sister, says, "There is a moral issue involving Germany here because of the behavior of the Nazis against Greek citizens and their relatives who are now making claims. When things like this happen the least that one can do is apologise and there is always the question of compensation that goes together with the moral obligation." . So there is a joint obligation. This is not what we are saying, it's said by the justice, the law."
Claiming war reparations was one of Alexis Tsipras' main election campaign promises.
Reparations Athens has put at some 280 billion euros.
Money owed not only to compensate victims but also from forced loans, stolen antiquities and a brutality that killed one tenth of Greece's wartime population.
But Berlin argues it already paid reparations under a 1961 bilateral agreement.
It also says it has poured money into Athens not only since it joined the European Union but also the euro.
This man is in Germany to prove the contrary.
Not just a Greek problem
"Manolis Glezos": http://en.wikipedia.org/wiki/Manolis_Glezos is a living legend. This 92 year old World War Two veteran became a hero when he pulled down the Nazi flag from the Acropolos in 1941. He has been fighting for war reparations for decades. .
Mr. Glezos has been touring Germany for the past three weeks. Euronews caught up with him in Hamburg where he was invited by the small left wing German party Die Linke. They are part of the minority which supports Athens call for reparations.
Mr. Manolis says he hopes to convince more Germans on working on a solution to these reparations together. He says,
"the issue of the war reparations until now was a Greek issue. And then when I became a member of the European Parliament, I managed to bring this issue to a European level so it became a European problem. Now during this road trip, I am hoping to bring it to the German people so that it will become a German issue because I really believe that the solution will come from the German people."
But critics in Germany as well as in other EU member states argue that the timing of "war reparations": http://www.telegraph.co.uk/finance/economics/11518862/Greece-demands-279bn-from-Germany-in-Nazi-war-reparations.html coincide with the Greek debt crisis – at 300 billion euros the amount is almost the same.
Mr. Glezos Manolis disagrees. "We are against making one debt erase the other. We are not talking about the same amount of money. The amounts are not the same. And all this is just propaganda. They're trying to discredit our demands."
There's little doubt that discrediting what many Greeks see as an historical injustice is a highly emotional issue.
Even more emotional when the country they are "targeting",Germany, is also blamed in large part for the austerity measures imposed by the EU-IMF bailout.
But can the two really be dis-associated?
George Tzogopoulos is from the Hellenic Foundation for European and Foreign Policy. He says, "this was a part of the pre-election campaign of Syriza the leftist party to put pressure on Germany. And after the election, Tsipras himself wanted to put pressure on Germany in order to politically sell the issue to the Greek public opinion. Nevertheless it is important to say that during the press conference with Chancellor Merkel in Berlin Tsipras said it's only a moral issue, it's not an economic issue. So this constitutes a U-turn in the approach of the Greek prime minister regarding the war reparations and the occupation loan."
Too late
Like the negotiations for the Greek debt, the issue of war reparations is a long, complicated and emotional procedure that will take years, perhaps even decades. A luxury some people can no longer afford. Eleni Sfoundouris says she's doubtful she will see war reparations in her lifetime.
"It never crossed our minds that we could ask for compensation. We didn't even know that we could have the right to ask for this. We had in our minds our families we had lost so we didn't think about reparations. It was other people who reminded us of this, told us we had a right to demand this. We would never believe it and I still don't believe we will get any reparations. And for me now it's too late. "