EU unveils new security strategy
Comments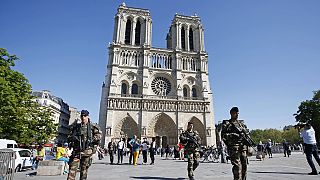 Four months after the Charlie Hebdo attacks, EU officials have unveiled a proposed security strategy for the 28-member bloc.
The European Commission (EC) presented its plans at a meeting in Strasbourg on Tuesday.
Its new strategy paper proposes an anti-terror centre to help national security agencies in tracking suspicious bank accounts and extremist websites.
The paper, called "The European agenda for security," was not a concrete proposal for a new law, which would require the approval of European Union (EU) member states and the EU parliament.
"We need more sharing of data, effective operational cooperation, additional trust building measures. in particular, we should develop judicial cooperation to complement law enforcement cooperation. the existing European agencies need to be sufficiently equipped and work together more closely,"said Frans Timmermans, vice-president of the European Commission.
But ultimately security matters remain in the hands of EU governments.
Some say that once again too much focus has been put on data gathering.
"When we look at the Charlie Hebdo attacks, when we look at terrorist attacks that have been committed in the UK or in Spain, actually we come to realise that the people who committed those crimes where known. i mean it's not for lack of intelligence that we didn't prevent these acts, it's for lack of exploiting the intelligence," said Green MEP Philippe Lamberts of Belgium.
The commission is also calling for a centre to prevent the radicalisation of young people and talks with internet firms on fighting jihadist propanganda.