Eurogroup puts pressure on Greece
Comments
By
Euronews
with
http://www.bloomberg.com/news/articles/2015-04-24/varoufakis-said-to-take-h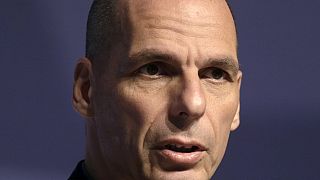 Eurogroup officials have been piling the pressure on Greece at the latest bailout talks taking place Friday (April 24) in Riga.
It was a very critical discussion and it has shown a great sense of urgency around the room.
Dutch finance minister Jeroen Dijsselbloem, who chairs the group, says that Greece has "big, big problems" to solve before its creditors will release more money.
"We came to an agreement two months ago and today we had hoped to hear a positive result and an agreement on which we could then take a decision, but we are still far from that," he said at a press conference after the meeting. "So, yes, it was a very critical discussion and it has shown a great sense of urgency around the room."
The Eurogroup had asked Greece to agree to major economic reforms by the end of April, in exchange for more cash to keep the country running. Although the final deadline can be pushed until the end of June, Greece is nevertheless very short on time. The country risks bankruptcy and a possible exit from the euro if defaults on its loans.
Months of talks with the country's international creditors have so far proved unproductive.
Left-wing Greek prime minister Alexis Tsipras has refused to go along with changes the previous government agreed to in 2012 when Greece accepted a 240-billion-euro rescue package.
Reporting from Riga, euronews correspondent Efi Koutsokosta says EU sources complain that they have only started to see progress in the last few days.
Sources at the meeting say ministers slammed Greek finance minister Yanis Varoufakis for failing to come up with a list of reforms. Bloomberg reports that they accused him "of being a time-waster, a gambler and an amateur."
But Varoufakis appears optimistic. In a blog post on Friday (April 24), he said that the wage and pension cuts are still sticking points but added that the disagreements are not "unbridgeable."
Speaking at the press conference in Riga later, he confirmed that, from the Greek point of view, at least, progress is being made.
"We look at the last two weeks and what we see is convergence. We haven't had full convergence yet, because otherwise we would have had white smoke coming out of the chimney, but we are confident that we can have that."
In the meantime, Greece is struggling from day to day as its cash reserves run low.
The next Eurogroup meeting is scheduled for May 11 in Brussels. Greece is due to pay 750 million euros back to the International Monetary Fund the following day.