The Man Who Mends Women: Congolese doctor unveils new documentary
Comments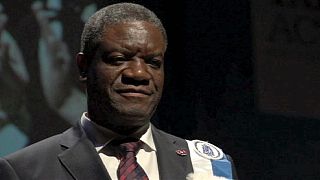 A new documentary by the winner of an EU rights prize highlights the stories of women who have been raped during the conflict in the Democratic Republic of Congo.
The Man Who Mends Women focuses on the work of Denis Mukwege, a gynecologist who won last year's Sakharov Prize.
In 1999, Mukwege set up his own hospital back home, which has treated more than 40,000 women who have been violently and sexually abused.
"The workers at the hospital in Congo earn roughly 100 euros a month.I'm being asked to pay taxes for 650,000 euros. It is not reasonable , it is arbitrary. It could even be seen as corruption," he said at a press conference in Brussels.
Mukwege also called for fairer election in the Democratic Republic of Congo.A presidential poll takes place at the end of next year.