EU's Schulz welcomes French budget ruling
Comments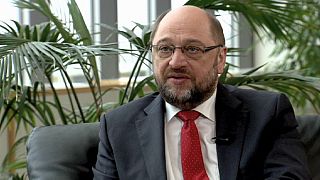 European Parliament president Martin Schulz told euronews that it is right France has more time to balance its books.
Welcoming the European Commission's decision on Wednesday, that France is "cutting its public budget enormously."
there is a plan of 50 billion euros reduction of spending in France," the German MEP said.
"France is also in a budgetary scrutiny and there is no different treatment (with Greece)."
"It is not the case that Greece as a country was badly treated. There was a lot of solidarity with Greece. But what happened not was solidarity in the country, that the ordinary citizens, young people, pensioners, employees paid the bill and billions could be brought out by rich people of the country in tax heavens. That's the scandal," he added.
France has been given an extra two years – until 2017 – to get its budget deficit back to the EU mandated target of three percent of GDP.
It stood at 4.3 percent last year.