Businesses struggle to adapt to strong Swiss franc
Comments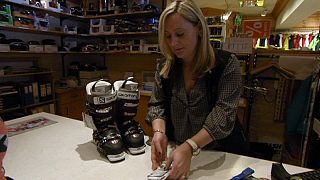 Snow, sun, and tourists may be a regular scene for most ski resorts at this time of the year. But in Switzerland, the last month has been hard on the winter sports industry due to a brutal rise of the Swiss franc against the euro.
More and more companies are upping the pressure on employees. They want to reduce wages, pay salaries in euros or increase working hours. It's not fair to make workers pay the price.
On January 15, the Swiss central bank stopped maintaining a currency peg of 1.20 francs to the euro and that has sent shockwaves through the economy.
Tourists heading to Swiss ski resorts find they're twice as expensive as competitors in the euro zone. But the small Grächen ski resort has found a solution
"The tourism industry has been hit very hard. So we made an offer for our overseas customers from France, Germany, the Netherlands, Belgium and the like. We introduced a fixed rate of one euro for 1 franc 35," said
Berno Stoffel, CEO of AG Grächen Tourism Company.
"There have been no cancellations. On the contrary, for the end of the season period, we've maintained strong bookings. People benefit from the lower rate and they continue to visit."
Many of the resort's operators take part in the scheme. Grächen's guests can enjoy the preferential rate, as long as they pay cash, and in euros. Traders get to keep some reserves in euros, which can help them finance part of their investments.
The 'pay in euros' plan has allowed Hotel Hannigalp to cover part of the cost of renovations. Through a quality offer, combined with the favorable rate, the hotel's manager Olivier Andenmatten said eurozone tourists have not cancelled.
"In the days of the internet and online reservations, there are always costs. Fees on online portals go up to 15 or 20 percent. If you have euros in cash, we don't have to pay these commissions on credit cards. The money comes directly to us," he told euronews.
The sharp rise of the franc has – nonetheless – hit the Swiss economy hard. Exporters and their subcontractors are most affected, and they account for half of the country's GDP.
Rüeger, a manufacturer of temperature and pressure measuring devices exports 90 percent of its products.
"We paid our suppliers before January 15 and we're just receiving payment by our clients around now. So we had an immediate 20 percent loss," said Chairman Bernard Rüeger.
"Then we had to take such swift action to be competitive with our French and German friends, who are immediately 20 percent cheaper than us. So we lowered our prices. It will take us two to three years to absorb such a shock," he added.
Swiss research institutes have cut their 2015 economic growth forecasts by 75 percent and many companies fear they will have to put new projects on hold.
"Companies have only one option to stay competitive, and that's to scrutinize all of their costs, improving processes, reviewing energy costs and possibly finding new subcontractors outside Switzerland," said Claudine Amstein, Director of the canton of Vaud's Chamber of Commerce.
"There's also been a debate about pay. Some are considering a wage freeze, reducing employee benefits or other similar measures," she explained.
Cutting wages and bonuses and paying cross-border workers their salaries in euros are just some of the measures being considered by many Swiss companies.
According UNIA, the country's largest union, the list of companies making cuts is growing every day.
"More and more companies are upping the pressure on employees. They want to reduce wages, pay salaries in euros or increase working hours. It's not fair to make workers pay the price. This is not the solution, it's going to affect domestic demand, weaken the economy and will end up creating more problems," said Vania Alleva, co-President of UNIA.
Cheaper cross border shopping in France, Germany and Italy won't help domestic demand either. Retailers are doing more aggressive promotions to keep their customers at home..
Imports are cheaper and any gains are being reflected in lower prices. One major Swiss car dealer told euronews their outlets have been deserted since the begining of the year and many orders for new business fleets have been suspended. Suppliers have had to agree to substantial discounts.
"A 15 percent rebate called 'Swiss netto' is now working. But we really needed it. We hope to make up the shortfall in sales. However it's clear that for every car we sell, we get 15 percent less revenue. And we will have to sell more vehicles to make up for this loss," said Sergio Protopapa, a Director at AMAG Fribourg.
The appreciation of the Swiss franc against the euro and the dollar also triggered panic in the private banking and wealth management sector, which mostly offers services to foreign clients. One of the biggest has fired 200 employees.
Michel Dérobert, Director, Swiss Private Banks was keen to play down the damage:
"Private banks are exporters so there is a clear impact because their cost base is located in Switzerland, and income is partly in foreign currency. It's very hard for an entire economy that has to deal with a very strong currency, but it can be to our advantage if we can specialise in higher value activities," he said.
Switzerland is perhaps best known for serving the luxury market. High-end watch brands like TAG Heuer have benefited from centuries of expertise. The absence of foreign competition helps to limit losses, said Jean-Claude Biver, president of owner LVMH.
"It's eternity in a box! This is what is known as cultural heritage, and cultural heritage never dies!" he said.
"The Swiss are predestined to constantly improve their products, always innovate, be creative, and always search for the best production processes to ensure the most cost effective price. In every defeat, there is already the virus, the bacterium of the next success. And it is to her that you must cling, so she will carry you to your next success," added Biver.
Another glimmer of hope for Switzerland's business community are the measures announced by the European Central Bank to boost growth in the euro area, which could, in turn, benefit Swiss exports.