Less talk and more action, Ukraine envoy tells EU
Comments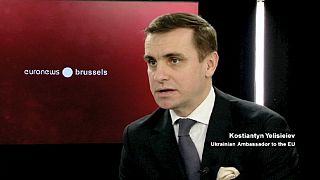 Ukraine's ambassador to the EU Kostiantyn Yelisieiev on Tuesday condemned fresh attacks in Kramatorsk, eastern Ukraine which Kiev blames on Russian-backed separatists.
He told euronews that the attacks which killed at least seven people and injured 20 hit a local airport and residential areas.
They come just one day ahead of peace talks in Minsk, Belarus between France, Germany, Russia and Ukraine.
Ukraine's Ambassador to EU Kostiantyn Yelisieiev: We strongly condemn what happened. The victims of this attack were civilians. So the number of civilian casualties over the last week has reached somewhere around 300 people. This is a very negative signal on the eve of important diplomatic efforts to end the bloodshed.
Euronews: On Wednesday, a very important meeting will take place in Minsk. Many politicians in the EU and Ukraine describe it as the last chance.
Kostiantyn Yelisieiev: Of course, we can't expect that everything will be solved quickly. But at first phase the bloodshed should be stopped and a ceasefire declared, especially by terrorists supported by the Russian Federation – it is extremely important. And after the fire had stopped, we can talk and negotiate diplomatically a provisional agreement. And we are ready for compromises. There can't compromise on one thing – and that's the territorial integrity and independence of the Ukrainian state.
Euronews: Do you see any differences in the positions here in the EU? Do you see a pro-Russian stance of some countries?
Kostiantyn Yelisieiev: What is extremely important today is not only that sanctions against the country that is the aggressor. But it is important for the EU to maintain unity. Moscow is trying to break this unity. The second challenge – is to keep the so-called transatlantic unity. That's why we are reassured by the recent visit of the German Chancellor to Washington.
Euronews: What further steps can the EU make to support Ukraine?
Kostiantyn Yelisieiev: Up to now, the EU adopted more than 20 different declarations about Ukraine for over the last year. The intentions are good, but we need concrete action, such as providing us at this stage with military aid, or at least defensive weapons