Rouble trouble: Finns sharing the pain of Russia's currency crisis
Comments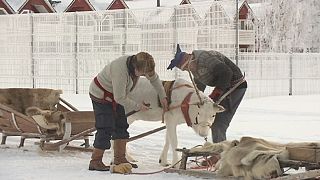 The collapse of the rouble, caused in part by EU sanctions against Russia over its alleged support for Ukrainian rebels, has had an impact on parts of the European bloc. It has been particularly felt in south east Finland which had enjoyed a healthy revenue stream from Russian tourists.
Some of the shops have closed (their) doors Before (the rouble crisis) we had 60 to 50 percent of Russian customers - and today it is about 20 percent.
With the rouble significantly weakened against the euro cross border shopping is no longer the big attraction it once was.
As a consequence a region that was booming just a couple years ago is now coping with a huge drop in trade and rising unemployment.
In the town of Lappeenranta a new shopping centre is being constructed, fuelled by pre-crash investment confidence. But can it and many other commercial ventures survive without the Russians?
Security concerns are also on the rise in the region. For some Finns the new tensions between Russia and the EU have resurrected painful memories of previous conflicts between their homeland and the former superpower and support for NATO membership has grown.
Hans Von Der Brelie travelled to the area to find out how Finns are coping with the knock-on effect of a crisis not of their making.
Watch his report to find out more.
In Helsinki, Euronews spoke with Teija Tiilikainen, director of the Finnish Institute of International Affairs, about economic and political relations between Finland and Russia. To listen to the full interview (in English language) you can use this link.
Teija Tiilikainen: Finland would benefit from NATO membership