Latvian exports hit by Russian embargo
Comments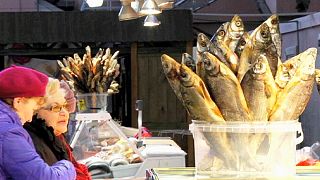 Latvia currently holds the six-month rotating EU presidency, more than twenty years after the end of Soviet occupation.
The Baltic State will chairing high level meetings as the bloc shapes its response to the Ukraine crisis.
The country also has a large Russian-speaking minority, roughly 30 percent of the population.
In Riga, locals seem divided on the issue of Ukraine.
"It is horrible what is going on there, and the worst thing is that the aggressor is our neighbour," said one woman in the Latvian capital.
"We have our past and we understand very well the danger of what is going on."
"I think without sanctions, there will not be (any) changes," said one young woman. "Russia does not understand any conversations."
But those EU sanctions are hurting the Latvian economy and local people.
Latvia has been one of the countries most affected by A Russian embargo on its products, a response by Moscow to EU sanctions.
Latvia lost 52 millions euros in food exports, with 0.25 percent shaved off its GDP.
Here in the main food market of Riga, people felt the effect of the embargo decided one year ago.
Russia blocked the imports of fish, poultry and fruits and vegetables with the dairy sector bearing the brunt of the move.
We in Latvia we understand what freedom costs for us," said one dairy farmer. "We are ready to show solidarity with other European countries."
"we have a lot of good dairy customers in Russia but for us farmers it will not impact us much in the end. We will find new markets; we already have signed some contracts with China."
Because of the Russian embargo, the price of the milk in Latvia had fallen by one third.
The European commission has pledge 7.7 millions euros to the dairy producers in Latvia to compensate the losses.
Farmers say they need more money as it will take at least other 6 months to find new markets.