EU anti-terror chief seeks air passenger register
Comments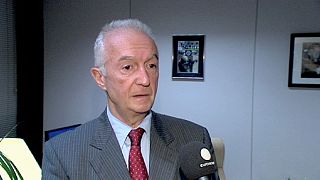 The EU's anti-terror chief Gilles de Kerchove, says EU plans to share air passenger data could help identify foreign jihadists.
Gilles de Kerchove, the EU's counter-terrorism coordinator, told euronews that it is an essential tool to identify possible militants.
He spoke with Brussels Bureau Chief Frederic Bouchard in the Belgian capital.
euronews: Are you satisfied with the EU's response so far? What do you make of the idea of air passenger register?
"We absolutely need this. At the start of this foreign fighter phenomenon, we could identify around 60 percent of people as possible jihadists, so some 40 percent flew under the radar."
"We learnt they were in Syria as they posted photos on Facebook or Twitter. This number needs to be higher and one way of increasing itis this passenger name register."
Euronews: The French Prime Minister (Manuel Valls) reacted to the attacks by referring to a number of ideas including set up special wings inside prisons for those who preach radical Islam. What do you make of those ideas?
De Kerchove: I think effectively that there is a real danger in mixing up people coming back from Syria and common criminals, as the Coulibaly case showed us.
Someone who returns from jihad could have this aura of a veteran, who inspires others, even if he wasn't on the frontline. He's going to make it up to appear like a hero and do inspire others to do the same.
That means that we have to do more, not only separating jihadists from others, but also deradicalisation programmes.