Shipwreck start-up: hope for African migrants building a new life in Germany
Comments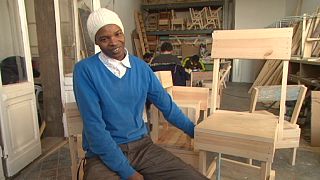 Ali, Maiga, Malik, Moussa and Saidou are five young men from Africa trying to make a new life for themselves in Germany. Theirs is a story of war, deprivation, tragedy and, just maybe, salvation. They are among the many thousands of desperate people to have undertaken the perilous journey to Europe in recent years in the hope of finding a peaceful and stable environment in which to live.
Having witnessed death and suffering in a torturous voyage across the Sahara and the Mediterannean, they ended up in Berlin. Today they have a lead role in an incredible, inspirational start-up for refugees, which designs and builds furniture. But their handcrafted chairs are no ordinary pieces of carpentry. They are made from wood salvaged from the wrecks of migrant ships.
With this potential income source and changes to the asylum process in Germany their chances of being allowed to stay in Europe have improved.
To find out more about their fascinating story watch the video.