EU publishes free trade papers amid transparency row
Comments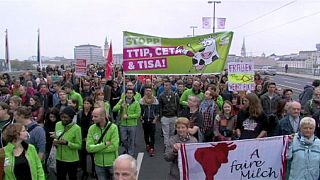 EU officials have released confidential papers being used to negotiate a free trade deal with the US.
The European Commission took the step after criticism from anti-globalisation, anti-free trade protesters over the deal.
But the EU's executive won't be making all documents public.
"Some issues and I was very clear about this in November already, cannot be published on market access, quotas and tariffs of course. These are very sensitive issues that you need to have a certain secrecy in the negotiation," said Cecilia Malmstrom, the EU trade commissioner.
The move follows a probe by the European Ombudsman, the EU's main transparency watchdog, following a number of complaints.
The released documents cover eight policy areas including food safety and customers issues.
But some critics say the steps do not go far enough.
The EU and the US want to strike a free trade deal by the end of this year.
Supporters say it will boost jobs and growth.