Welcome to Germany? The social network response to Syrian refugee surge
Comments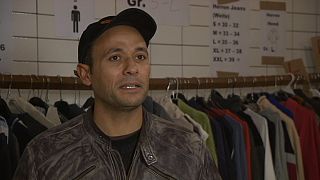 The war in Syria and other conflicts have caused a surge in the number of people seeking asylum in the European Union.
Germany is not running the risk of collapse, on the contrary: we are an economically strong nation. We can take in refugees without any problems. The countries neighbouring Syria took in millions of people in the past three years. If Germany were to take in just 200 000 asylum seekers this year, then people would take to the street to demonstrate agains
At around half a million, the figure is more or less double what it was in 2008. Germany has taken in about a third of the refugees and this year alone at least 200,000 more arrived in the country.
As Europe's economic powerhouse, Germany has perhaps greater capacity than other EU states to cope with the influx. But how many more can it take? Does it have an upper limit and what is the impact on both host communities and the new arrivals? In the first of two reports, Hans von der Brelie travelled to Hamburg to gauge the mood among its residents and assess the response of local authorities.
He discovered that among the consequences to the upsurge was community-based aid action organised through Facebook and other social networks. Volunteers collect clothes and other essential items, but perhaps of equal importance in a country where the issue of integration is central to the immigration debate, local people are giving free German lessons.
To see Hans' report in full, watch the video