EU Parliament passes watered down resolution on 'principal' of Palestinian statehood
Comments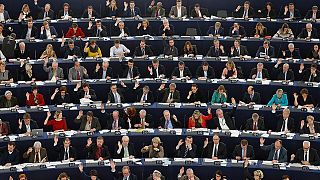 With an overwhelming majority the European Parliament has spoken in favour of the principle of Palestinian statehood.
The motion backed such a set up in theory, within the framework of a two state solution.
Compared to a resolution originally tabled calling on EU member states to recognise Palestine- this outcome was somewhat muted.
But it has still sparked some criticism with David Walzer,
Israeli Ambassador to the EU, speaking out against the move:
"The only way to achieve this ambitious goal is to have Israelis and Palestinians to sit in a room, around a table and directly negotiate a peace agreement; not in Strasbourg, not in New York, not in Geneva.'
Israel has long lobbied against any such resolution. But others argue this is a necessary step to bring stability to the Israel- Palestinian conflict. Gilles Pargneaux, a French centre-left MEP spoke to euronews after the vote:
"I told the Ambassador of Israel , having this recognition and resolution will enable you to have improved dialogue with Fatah , and Mahmoud Abbas , who will be strengthened, through our political resolution and our political pressure. "
In recent months numerous national parliaments in Europe have issued their own non binding resolutions.
It has perhaps symbolised a shifting attitude within the EU, but it is still one yet to result in any policy change.