EU lawmakers fail to strike deal on Palestine vote, reach compromise
Comments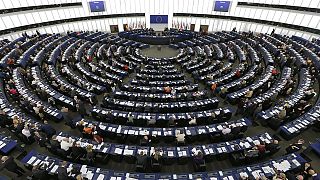 The deeply divisive conflict splitting the European Parliament.
On Wednesday EU lawmakers were set to vote on a symbolic motion urging the blocs member states to recognise Palestinian statehood.
But after failing to agree on the terms that was scrapped. A new resolution now stands in its place – calling for further peace talks and supporting Palestinian statehood "in principle".
It is a compromise that reflects just how deadlocked this debate has become. MEP and Chair of the European Parliament delegation with Palestine, Martina Anderson, told euronews why she planned to vote on the original resolution:
"If we can gather a joint resolution that the vast majority of MEP's can support, that sends a clear signal to the Israelis, for those of us that supports the two state solution, that we want security, diplomacy, we want democracy working and operating in both states, that sends a very clear signal to the Israeli government that the Palestinian state its people, its territory is recognized, that occupation must end."
The spectre of voting on Palestinian statehood has long haunted the European Parliament. With a decision first tabled for November having to be postponed. Fulvio Martusiciello, an Italian centre-right MEP outlined his objections to a vote on Palestinian statehood:
"It would be interesting if this debate was as much about the recognition of Palestine as about the security of the Israeli people. it's unacceptable that an Israeli citizen can't go out of his house without running the risk of being attacked with acid, or being the victim of an attack or being ran over by a car."