EU urges Ukraine to push on with reform
Comments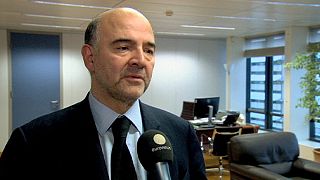 The EU's executive paid out on Wednesday 500 million euros in financial aid to Ukraine, urging Kiev to push on with reforms.
The payment amounts to the second half of a one billion euro package.
But the European Commission also wants Kiev to pursue structural reforms to tackle corruption, public procurement and state financial management.
"The problem is not to meet financial needs. That is not the key for us the key is in the reforms that need to be led," said Pierre Moscovici, the EU's top economics official.
Ukrainian President Petro Poroshenko says economic reforms will means his country will be able to forge even closer ties with Brussels.
He said in an interview in September that he wants to apply for EU membership in 2020.
But for officials in the Belgian capital, that is still a long way off.
"The time has not come to talk about that. I think it would be a mistake to do so. But of course Ukraine is a country which is strong partner to Europe which is very close to Europe and we will see in the future what are the forms that this partnership," said Moscovici.
He added that the EU is now examining a request from Ukraine for a third tranche of aid, which amounts to some two billion euros.