Denis Mukwege: Sakharov Prize winner and champion of human rights
Comments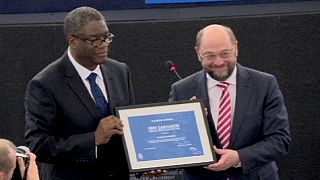 Denis Mukwege, has been awarded the 2014 European Parliament Sakharov Prize for Freedom of Thought.
For 15 years, the gynaecologist has treated tens of thousands of victims of rape and genital mutilation in his native Democratic Republic of Congo.
He used his acceptance speech at a plenary session of the European Parliament in Strasbourg, to highlight their plight.
"Women's bodies have become a battlefield and rape is being used as a weapon of war. There are multiple consequences as a result, which impact on the whole of society. The family unit is disintegrated, and the social fabric destroyed. In a largely militarised economy, populations are reduced to slavery or simply forced into exile," he said.
Denis Mukwege has fought for their human rights in the mineral-rich east of the DRC; an area largely controlled by armed gangs There, the abuse of women is endemic and people are often forced to flee.
Both Dr Mukwege and European Parliament President Martin Schulz called for the perpetrators to be brought to justice.
"The de-facto impunity for rape in armed conflicts must be ended. When military commanders use and impose rape, then it is a war crime. These war crimes must be punished as war crimes!", exclaimed Schulz.
Stating that there are half a million victims of sexual assault in the DRC, Mukwege called for the root cause of the violence to be addressed urgently.
This could be achieved, he said, with the establishment of an International Criminal Tribunal in the east of the country.