What did MEPs make of Pope Francis' speech in the European Parliament?
Comments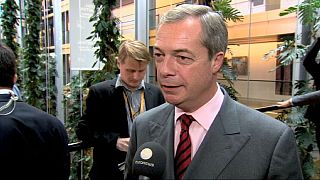 MEPs have been reacting to the first papal address to the European Parliament in Strasbourg on Tuesday (November 25).
Pope Francis urged European leaders to do more to help migrants trying to make the continent their home.
He also compared Europe to a grandmother, saying it was viewed as "somewhat elderly and haggard".
The MEPs euronews spoke to – who were generally positive about the address – chose not to challenge his words.
Nigel Farage, leader of Britain's anti-EU party UKIP, said: "I loved it. Great speech. He is a very up to date 21st century pope. He gets it. But as he said himself the EU is weary, tired, infertile."
Rebecca Harms, a German Green MEP, said: "I liked this idea to ask that humanity is a fundamental part of the European strategy."
But Austria's Ulrike Lunacek, another Green MEP, said she would have liked the pope to have addressed issues surrounding homosexuality.
She said: "I know quite a few lesbians and gays from inside the church who have hope with him. That he will open up the church. But it would have been great for lesbians and gays if he had said something like this here today as well."