EU - Ukraine: False expectations
Comments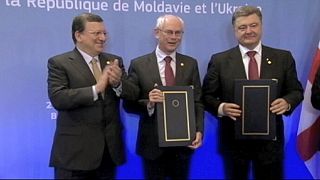 Voters in Ukraine will go the polls on Sunday as the country remains deadlocked in a political and economic crisis.
The snap parliamentary election is the first since protests against former President Viktor Yanukoyvch erupted last November.
They were fuelled by widespread anger over corruption, abuse of power and human rights violations.
Vilnius, Eastern partnership summit, Yanukovych there (not signing the agreement)
Other protesters also said they resented Yanukovych backing out of a trade pact with the EU in favour of closer ties with Russia.
A turning point in the so-called Euromaidan movement came when he fled the country after violent clashes in central Kiev in February last year that left more than one hundred people dead.
Tensions were racheted up further in March when Russia annexed Crimea, sparking international condemnation.
Instability and fighting spread to other parts of Ukraine, notably in the country's East.
The country's new pro-Western government accused Russian President Vladimir Putin of fomenting the unrest, a charge repeatedly denied by Moscow.
Although the EU has slapped sanctions in Russia, some argue the bloc's response has been too tame.
Last month, EU officials said they were to delay the implentation of the trade pact with Ukraine amid Moscow's continued protests.
What will happen if the violence in eastern Ukraine doesn't cease?
And what will Russia's next moves be after this key concession?
As Ukrainian cast their ballots, President Petro Poroshenko's ambition of becoming an EU membership candidate within six years, looks a distant dream for now.