Butterflies beating their wings for change in Colombia
Comments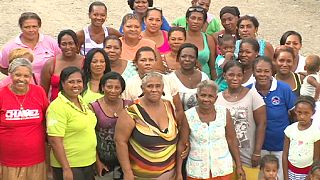 Buenaventura is a bustling deep water port on Colombia's Pacific coast. Home to some 400,000 people it is rich in natural and commercial resources and is poised to become the country's busiest port.
But few among its population get to share in the city's prosperity and potential.
On the contrary, thanks to its location the Buenaventura has become a drug-trafficking hub. Armed gangs control the waterfront districts and local people often find themselves caught in the crossfire between rival clans and subject to extortion, kidnap and violent street justice.
Against this backdrop The Butterflies Network offers hope to women whose lives are blighted by gender violence.
The movement was started by ordinary women who realised they could only turn to each other for support and protection in a deeply troubled and traumitised society.
The Network has just won the UNHCR's http://www.unhcr.org/pages/49c3646c461.html Nansen Award in recognition of their work. In this edition of Reporter we meet the extraordinary, inspirational women behind the movement and hear the stories of some of those they have helped.
Watch the video.