Portugal hopes to become a pensioner's paradise with zero tax offer
Comments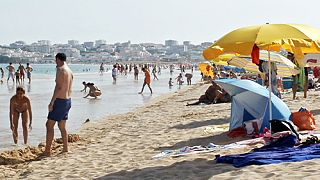 French citizen Christine Paris decided to move to Portugal, seduced by an income tax exemption the country is now offering foreign pensioners.
Pensioners like her, who haven't been residents in Portugal in the past five years, can move to the country and enjoy their pensions tax free for 10 years.
The tax regime for so-called non-regular residents was created in 2009, but its impact is only being seen now, with a wave of foreigners taking up the offer.
"I found it a really interesting scheme, and for a country where there's sun, a pleasant quality of life, it's a plus, comparing it to the difficult conditions we have in other countries. In France, for example, taxes have increased a lot in the last two years," Christine Paris told euronews.
With relatively low property prices Portuguese estate agencies are getting more and more clients like Christine.
Estate agent Pascal Gonçalves says the number of foreign pensioners looking to buy houses in Portugal shot up by 40 percent in 2013: "The biggest increase in demand is among the French, but there are also a lot of Swedes who feel the need for a life in the sun. We're also seeing an increase in demand from the UK, and we think that the Germans will soon turn towards this market."
In this edition of Reporter Filipa Soares speaks to some of those who have been lured to Portugal by the generous tax regime and the prospect of a life in the sun.
But how can the Portuguese government justify giving tax breaks to foreigners while raising the tax burden on its own people? Watch the video and find out.