The Network: is digital killing jobs?
Comments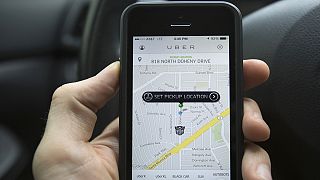 How much does Europe's digital market create and kill jobs?
Bricks and mortar retailers, even taxi drivers, are losing out to online ways to shop. Are the digital jobs created outnumbering the ones they're making redundant? Or is there no net job increase?
Statistics show digital jobs pay on average less than the blue collar and white collar jobs they replace, hitting hard the working and the middle class.
So should the EU be pushing harder to create a single digital market across the EU28, or instead try to protect the jobs in industry and services that exist?
Euronews debates these issues with Pierre Steenberghen, Secretary General of the Belgian Taxi Drivers' Association, GTL; James Waterworth, Vice President of the Computer & Communications Industry Association (CCIA); and Kostas Rossoglou, Senior Legal Officer with the European Consumer Organisation BEUC.
Pierre Steenberghen believes that the digital revolution is a job creator. He personally does not see taxi drivers being made redundant by digital apps. But he is concerned that the market could be distorted by people using apps to book (cheaper) "privately hired cars with drivers" instead of (more expensive) "taxis".
James Waterworth thinks that digital technologies create jobs. He spoke of a French government effort from a few years ago to estimate how many jobs were being lost in certain industries because of change, and how many were created and they came up with the statistic that for every job lost 2.6 jobs were created.
He also pointed out that the European Commission has said is that by 2020 85 percent of jobs will need information and communication technology skills. In his opinion, what is important is making sure that people have the skills needed to work in digital and online industries.
Kostas Rossoglou said that digital technologies are good consumers, giving them extra choices by increasing competition.
James Waterworth says it is vital for companies to embrace the internet in order to survive. He said that last year, out of the companies that went bankrupt in Germany, 87 percent of them had no internet presence.
Kostas Rossoglou is of the opinion that we need both the online and the offline. What is important, he said, is to give consumers the choice. And in his view, a well-functioning market is one which responds to consumer expectations and needs. People who might actually go into the shop in the street and look at a product and then they go and buy it online. Or the other way round, they research products online and then go to s shop to buy them.