Mixed fortunes for Europeans chasing the Brazilian dream
Comments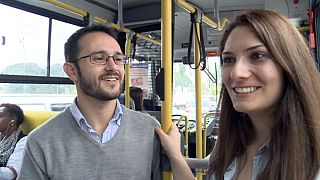 With the World Cup underway, Brazil has become the destination of thousands of people from around the world. They may have come to support their national teams, but the arrival of hoards of foreigners is merely an upswing in a trend the country has witnessed in recent years thanks to its economic growth.
The inward migration includes many Europeans seeking new opportunities as the financial crisis continues to take a heavy toll on the continent's domestic economies.
In this edition of Reporter, Valerie Gauriat meets some of those who have crossed the Atlantic to make a new life in this burgeoning economic powerhouse.
Civil engineers Manuel and Cristina left Portugal to work in Sao Paolo. They were persuaded to come by a compatriot who assured them their European university qualifications would be much appreciated.
Other European immigrants are drawn to a Brazilian services market crying out for innovation.
Donato left Spain after his construction sector company was hit hard in the crisis that devastated the industry.
The biggest challenge for Donato was not finding work, but cutting through Brazil's forest of red tape.
Valerie hears similar tales from the European owners of a luxury ice-cream parlour and a Frenchman who also had to negotiate a bureaucratic obstacle course to set up his now successful business.
But many others have not been so lucky, or so determined to succeed. For them the Brazilian dream very quickly becomes a grim reality. Find out more, watch the video.