Moldovan wine ban by Russia is a symptom of a wider divide
Comments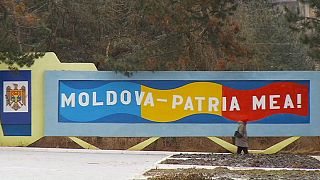 In this edition of Reporter euronews is in Moldova. Sandwiched between Romania and Ukraine, this former Soviet republic is facing a choice between furthering ties with the EU or Russia.
Recently Moscow reignited this debate by halting the import of Moldovan wine. For a country heavily reliant on such exports to Russia, the decision has had a major impact on producers.
Victor Bostan, owner of the Purcari vineyard, Moldova's most profitable, complained: "This is an embargo just for political reasons and has nothing to do with the quality of wine. This is already the second Russian embargo we've suffered. The first one was in 2006 and now another started in 2013. We had huge losses, in 2006: we lost 80 percent of our earnings. In 2013, it was less: 20 percent. In 2006, I lost over $10 million through the embargo and now, in 2013, I lost so far over $1 million."
The vineyard still turns a profit. Learning from the events of 2006, Victor decided to reposition his wine towards EU markets, Now just one in five bottles are sold to Russia, before that figure was four out of every five.
But the relative success of Purcari is not matched by the rest of the industry.
Most other wineries are making a loss and urgently need access to investment capital, as Victor noted: "The European Investment Bank has taken major steps to help Moldova, right now the E.I.B. is offering credit lines of 75 million euros so that wine-makers can invest and modernise the wine industry."
The Moldovan Centre for Alcoholic Beverages and Testing checks all wine before it is exported When the Russian authorities complained about impurities, the team there double-checked, with the help of EU labs, they found nothing wrong.
Dacian Ciolos, the EU Agriculture Commissioner told euronews that EU markets will be open to Moldovan wine.
Moldova is far from a united country; the breakaway region of Transnistria and the autonomous Gagauzia are predominantly Russian speaking. Here closer ties to the EU are not desired.
It is a nationwide divide that is being made worse by other issues, notably the import of natural gas from Russia.
Currently the country is largely dependent on imports from Russian firm Gazprom, which controls both the flow of gas and much of the distribution network.
High gas bills facing local producers with small margins is causing anger in many communities. The European Commission has sought to reintroduce competition and gas security into Moldova's market, by backing a new pipeline between Romania and Moldova. When fully functional those working on the project predict it will transport up to 1.5 billion cubic metres per year.
But overall public opinion on where Moldova's future lies is largely split; 44 percent look to the EU, whilst 40 percent to Russia.
To listen to the complete interview with EU Agriculture Commissioner Dacian Ciolos (French language) please use the following link. Euronews-Reporter Hans von der Brelie met Ciolos in the Moldovan capital Chisinau. Ciolos proposes closer EU cooperation with Moldova.
Interview bonus : Dacian Ciolos, Commissaire européen en charge de l'Agriculture