Stop the clichés about Luxembourg, says new PM Xavier Bettel
Comments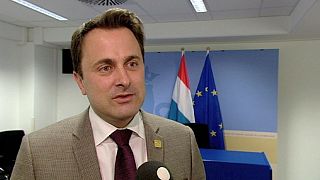 He was the surprise winner of Luxembourg's elections in October. Xavier Bettel – 40 years old, the centre-right former mayor of Luxembourg City – formed an alliance with socialists and ecologists.
It was enough to end the near 19-year reign of the elder statesman of European summits, the Conservative Jean-Claude Juncker.
Bettel took office as Prime Minister of Luxembourg on December 4.
Audrey Tilve, euronews:
"Xavier Bettel, for your first European summit, here's a slightly annoying question. Jean-Claude Juncker, your predecessor, left a mark on European politics. Is it not too burdensome being in his shadow?"
Xavier Bettel, Prime Minister of Luxembourg:
"No, he has certainly made his mark on summits, but now people will have to do with someone else, and I can tell you the welcome has been very, very warm. Thanks to the people of Luxembourg who made a choice and a parliamentary majority, I've been able to be present among my colleagues today."
euronews: "How would you like to stand out or differ from him on the European scene?
Xavier Bettel: "It's not a case of wanting to stand out or be different, each has his own style. All I want is to continue in a pro-European, friendly spirit, not confrontational but trying to find solutions, and above all what I appreciate is respect, since I recognise I am not prime minister of the biggest country."
euronews: "Right from this first summit, your European partners have put pressure on Luxembourg to stop blocking a measure aimed at stopping tax evasion via trusts and funds. Is your country's position tenable?"
Xavier Bettel: "Well firstly it's not only Luxembourg, it's Austria and Luxembourg which have a common position on this, and that's a commitment that we undertook in May, to say that we agreed for the Savings Directive to be set in motion, on the condition that we negotiate with five non-EU countries, including Switzerland, and this wasn't done.
Quite simply, both Austria and Luxembourg are beginning to have enough of people seeing us as just a country that shelters people fleeing taxes or whatever. We've signed more than 60 commitments with other countries. From 1 January 2015 there'll be an automatic exchange of information. So these clichés must stop, which I think are more about damaging Luxembourg than anything else, and in any case that's not the spirit in which I've come here, saying I want to defend that image of Luxembourg."