Turkey 'committed to democratic reform'
Comments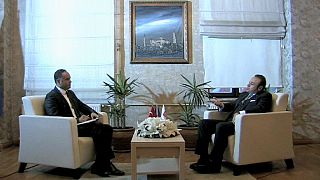 What does the opening of a fresh round of EU accession talks mean for Turkey and for Europe?
Negotiations have been deadlocked for many years largely due to Ankara's decades-long territorial dispute over the island of Cyprus.
Euronews' Bora Bayraktar interviewed Turkish European Affairs Minister Egemen Bagis to take stock of Turkey's progress on the long road to Brussels.
"In fact if there were no political obstacles, we are at a point where we could easily open 12 of the currently blocked 16 chapters in a very short period of time," Bagis said.
"We even meet the criteria to close some chapters. But as long as we have the problem of Cyprus and other political obstacles, there will be problems in this negotiation process."
Bagis added that the recent announcement of reforms by Recep Tayyip Erdogan means "Turkey has proved its determination towards democracy and transparency very clearly to all the world".
Euronews asked Bagis what he saw as the key challenges that could hamper Turkey's EU ambitions, and whether he saw an end in sight for the Cyprus dispute.
"I hope there will be a new proposal and this plan will be brought to a referendum in the first months of 2014, on both sides of the island," he said.
"If the referendum brings a new consensus simultaneously in Greek Cyprus and Turkish Cyprus, the obstacles in front of Turkey will automatically be removed and 14 of 16 chapters can be opened immediately.
"This will mean that the process of Turkey accession will be widely opened. But even if there is no solution to the Cyprus issue we will continue as if there is no obstacles. We will continue our reforms. For us membership is important."
Turkey was heavily criticised for its heavy-handed response to anti-government protests in the summer.
Why should EU member states believe that Ankara is serious when it comes to real democratic reform?
"It is important for us to match the democratic standards of Europe. But don't forget it took Europe years to accomplish this," the minister replied.