Let's hope it's a happy holiday!
Comments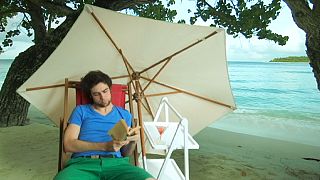 Yes, it all looks so perfect in the photo: the dream holiday. But how many of us know our rights as travellers, to make sure that we are protected when things do not quite live up to expectations, or when there are hidden surprises?
The Maldives is one of the top destinations for many travellers. But of course it is far away from the consumer protection laws that Europeans can usually count on.
That is why many choose to book a pre-arranged holiday package, with the European company that sells it mostly responsible when things go wrong.
And EU officials are now recommending that those rights, under a package holiday directive, should be extended to those who select tailor-made holidays, especially online.
In the Maldives we met a French couple, Emile and Laurence, who chose a package deal for their first foreign trip with their two children.
Emile Sabatier, from Paris, told Right On: "As our children are young, we waited before taking a plane. We told ourselves now we want to travel to see something other than Europe and France.
"We told ourselves that we would take an all-inclusive package holiday, with one unique contact, so we know how to solve all the questions, and that everything is pre-arranged, so we can have a good holiday and have peace of mind."
Euronews asked: "And more protection in case of a problem?"
"Exactly," said Emile. "To have one contact and be able to turn to that person in case of a problem, and not to worry about things when heading off on holiday."
There are consumer protection laws that cover individual elements of holidays, including flights, but experts say at the moment it is the person who books a package deal with a travel company that has the best rights and concrete options for redress.
That is why it is in the interest of European travel companies to make sure the holidays they sell are problem-free. Many of them have representatives on the ground, actually living at the resorts, and offering round-the-clock assistance. Euronews met the local agent for a firm that organises trips from the UK.
Layla Santo, a Destination Manager for Kuoni Travel, told Right On: "Unfortunately sometimes we do have medical cases, emergencies, accidents, illness. Our reps are there to support the clients, assist them over to the hospital if needed, and basically just to offer support, guidance and help if and when needed.
"But all our reps are on call 24 hours a day, 7 days a week. So (it's) just peace of mind for the clients that when they are here on holiday, if anything does happen, or they need any support or any assistance, there's always somebody there for them actually in the resort."
Every year there are headlines about holidays that became nightmares. Judges have used the EU Package Travel Directive, which came into force in 1990, to rule in favour of holidaymakers.
The rights include getting accurate information, guarantees of set prices, being able to cancel and get refunds if there are changes, and getting quick assistance if in difficulty. Repatriation and refunds if an operator goes bust are also guaranteed.
The market is changing though. And now Brussels wants to extend the directive, to cover those going online, for example, to put together their own tailor-made packages, either from one trader, or several commercially linked traders.
Surveys show the number of people buying their own customised holidays is now the same as those booking traditional pre-arranged packages. And the problem is that just under seven out of 10 people mistakenly think they are protected when buying the tailor-made deals.
Euronews' Seamus Kearney reported: "European officials say if their proposals come into force, some 120 million people would benefit from improved consumer protection. And that would especially be the case for those booking holidays online."
Responsibility falls not just on the travel companies selling the package deals though; the hotels and resorts are under pressure to improve their services. And scrutiny is coming from the European operators, who obviously want to avoid complaints and costly compensation payouts.
Hassan Saeed from the Bandos Island Resort in the Maldives told Right On: "The competition just got a little more fierce because of the social media, and people have so much choice at their fingertips. There is so much that people can read, so much that people can see, before they make a travel-related decision.
"So it makes staying competitive a lot harder for hoteliers now. I think it's a good sign, because we will be constantly challenged to better ourselves, to improve our services, to continuously improve and do better every day."
The reform of the EU package travel directive is still to be debated by individual governments and MEPs, and could take some time before an agreement is reached.
With Europeans making some one billion holiday trips every year, there will always be problems. But knowing there are new options to seek redress might at least set the scene for a stress-free break.