Slovenia - the next EU crisis ?
Comments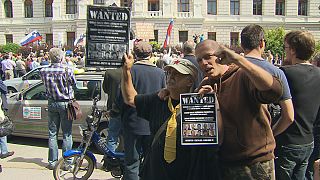 Slovenia, once the economic poster child of the new EU countries, now finds itself in economic and political chaos.
The government says Slovenia can save itself.
But, there is little investment, and many companies have gone bankrupt.
People took to the streets, leading to the resignation of the government.
The country's elite stands accused of cronyism.
State owned banks have made disastrous loans, leading to 7 billion euros of bad debt, hence a shortage of capital for the country's new entrepreneurs.
The European Union has given Slovenia two more years to put its finances in order.
To listen to the complete interview with one of the Slovenian citizen's rights movement leaders, Sanjin Jasar from Maribor, please use this link (English language):
Bonus interview: Sanjin Jasar