Italy youth unemployment feeds black market for labour
Comments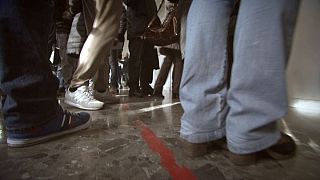 Young people in Italy are finding it more and more difficult to make their way into the job-market. Nationwide, unemployment is on the rise, and young people are the worst hit by the crisis. Youth unemployment has reached a peak of 37 percent.
The problem is worst in the south, where the textile and furniture industries have been hard hit. While some move north in search of better job prospects, others decide to stay and often end up working in the black labour market.
For many young people, illegal jobs are their first and only work experience. In these times of crisis, many companies only hand out part-time contracts. Others opt for redundancy fund schemes or close down. The abusive use of redundancy fund schemes creates a vicious circle that feeds the black labour market. Employees are left in limbo between work and unemployment. Many of them turn to illegal work: the number of people on the black labour market is on the rise and represents 40 percent of the total labour market according to experts.
In this edition of Reporter, we travel to the towns of Bari, Brindisi, Monopoli in Puglia, to meet some of the region's young people in and out of work. They tell us about their experience, what they think of the labour market and their prospects for the future.
To listen to the complete interview with Ida Ziccolella from the Bari job centre (in Italian), please click here:
Bonus intervista: Ida Ziccolella
To listen to the complete interview with black labour market expert Vito Belladonna (in Italian), please use this link:
Bonus intervista: Vito Belladonna
Vito Pertosa, President of the Mermec Group, talks about business innovation in southern Italy and the development challenges facing the Italian labour market (in Italian):
Bonus intervista: Vito Pertosa
The founder of Black Shape, Angelo Petrosillo, explains his view on the economic situation and the labour market in southern Italy (in Italian):
Bonus intervista: Angelo Petrosillo