Another option for European debt recovery
Comments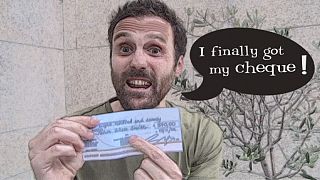 Brussels has promised to raise awareness about the European Small Claims Procedure, a regulation that aims to make it easier for people to solve disputes across the EU for claims worth less than €2,000. But many people attempting to get their hands on money that is owed to them might not be aware of another legal option: the European Payment Order.
There is an important difference between the two procedures. The small claims procedure can only be used when the liability is disputed, when there is disagreement between the complainant and the defendant about the sum, product or service being demanded. When the claim is uncontested, when both parties agree that a monetary debt is owed, this is where the European Payment Order (EPO) can be used.
The EPO covers only cross-border monetary claims. Instead of having to hire lawyers and start legal proceedings in the country where the person who owes the money resides, a standard form can be filled in and sent to a court that handles these kinds of matters. The order is then enforceable right across the bloc, without any further formality. If the payment order is not opposed by the defendant within set time-limits, it becomes final and can be enforced in each member state. If however the defendant opposes the payment order, the case can only then be heard by a court in that country.
It is important to point out that the use of the European Small Claims Procedure and the European Payment Order is facultative. This means that people can choose if they prefer to use an EU procedure or the national procedures that exist in their own countries. It is best to look into what the different steps would involve. What are the exact costs, for example? Some courts may charge fees and demand the translation of documents in some cases. The aim of the EU procedure is to simplify and speed up cross-border cases, taking away the need to engage lawyers, but it is worth checking to make sure there are no surprises along the way.
People should also be aware that the following are excluded from the European Payment Order: matrimonial property regimes; bankruptcy and similar proceedings; social security; claims arising from non-contractual obligations, unless they have been the subject of an agreement between the parties or there has been an admission of debt or they relate to liquidated debts arising from joint ownership of property.
Different advice is available from the European Consumer Centres Network, for example. Here is just one of the tips from the European Consumer Centre Finland: 'If you are thinking of initiating a European small claims procedure, you should in particular make sure that the opponent is the correct one. Please bear in mind the risks of this procedure. In the event that the seller is without means, the procedure will only result in unnecessary costs, as you are unlikely to benefit even if the judgement is favourable to you.'
EU guidelines on applying for the European Payment Order can be found here:
http://europa.eu/legislation_summaries/justice_freedom_security/judicial_cooperation_in_civil_matters/l16023_en.htm
https://e-justice.europa.eu/content_european_payment_order-82-en.do