A new SOS when youngsters vanish
Comments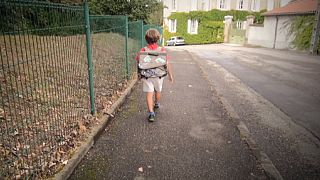 Numerous organisations across Europe are attempting to reduce the number of cases of missing children. Right On spoke to two NGOs who run the dedicated missing children hotline number in Europe – 116000 – a single number which is gradually being spread to all 27 EU states.

Zuzanna Ziajko
ITAKA – Centre for Missing People, Warsaw
"The creation of the helpline was important as it drew public attention to the issue of disappearances. It turned out that the problem of missing children exists, that this is very important, and that there's a need to create a separate line, a missing children phone line, where the people affected by this problem can be given adequate help. It is very important that this line is operating 24/7, that this is for free, so people are able to call us regardless of their financial situation. Many families of missing children have financial problems, often connected with the disappearance and the costs of carrying out searches. We are often told that people call us because this line is for free.
"We speak a lot about the 116000 line. We've been trying to promote it so we can be sure that when Polish parents go abroad for holidays to the UK, Italy or Spain, and if their child goes missing, they will know what number to use. The number 116000 is pan-European, and this is very very important.
"Sometimes on that line we receive calls from parents who want to make a statement about the disappearance of a close person, of a child, at the police station. They don't know how quickly the police should start to act, what it will involve, and often they're only told that a child disappearance statement has been completed. They have to go home with this great burden, not knowing where their child is, not knowing how the search is organised. They don't know how to cope with the problem.
"What they can receive through 116000 is direct advice. We tell them that the statement has been submitted, what that involves, what duties the police have, how the search will be carried out, how it should be done. And if it's not like it should be, we are able to verify that and make sure the search is conducted correctly.
"We are there for the parent, to tell them that there are search activities underway but you can talk to me or to our psychologist and to get some support. We are there for the parents to support them because the wait for the return of the child is very difficult, and a parent needs a great deal of support from experts to deal with this problem.
"Very often legal issues are connected to disappearances. On the 116000 lines there are also lawyers, who ask directly "what is your legal problem and what kind of help, what kind of support can I give you today?"
And we are giving also this kind of support.
"In the case of disappearances, especially in the case of a small child disappearing, it is very important to begin the intervention right away. The minutes and hours really count, to find a child safe and sound. That is why it is so important to begin the intervention right away and everything that needs to be done should be done straight away, without any hesitation."
"We receive many calls. We have many children disappearance cases, a great number. The disappearance of a child is a drama for the whole family. The teenagers are in the majority, teenagers who run away from home, who run away from educational centres. When the disappearance of a teenager is submitted we face a big issue: there's the problem of finding the kid, making sure that he/she is well and healthy, that nothing bad has happened. But there's also a problem when it comes to the family. What happened? Why did this kid decide to run away. There is the problem relating to this family. Will the kid run away again?
"In fact we have a whole family at the centre of this problem. Carrying out a search is not the only element. We have to think about what is not working in this family. We have a few hundred teenagers running away from home. That's the number of cases submitted to ITAKA. But there's a few thousand cases registered by the police of teenagers running away from home every year. This means there's a problem in Polish families. What makes children run away. What is not working?
"If we have a few thousand running away every year from educational centres then we have to think about the conditions at those centres. Why are the children who are sent there to receive help running away, refusing this help. This a great social issue because the children are our future. If today we don't look after both small children, but also teenagers entering their adult life, they might not become fully functioning adults, not prepared for the responsible life of an adult."

Costas Yannopoulos
Chairman of "The Smile of the Child", Greece
"Because of the financial crisis, because of the mere existence of the problem, and the fact that various public services are not operating at full capacity, there is a greater need for the mobilisation of society. The Smile of the Child is nothing more than the society's expression, a declaration of the people who want to make a difference. Behind the hotline 116000, a lot of people are working in the background, people who want to make a difference. We are uniting our forces. That has been our motto, the message we want to show. We are combining forces for the children. The Smile of the Child, the Red Cross, Greek Rescue Teams, the Police, the Fire Service, the Port Authorities, Civil Defence – all together with a single goal."
"The Smile of the Child plays a very important role, which is to coordinate all these people, because, thank goodness, in every department, there are human beings. The police cars have no gas, and other services are not fully operating because of a lack of the necessary means. So instead of accusing them that they are not doing their job properly, we are standing by their side.
"There is a recipe: do a good deed together, without expecting something in return, and unite our forces and not blame others for everything that happens. A child, 17 years ago, created the Smile of the Child. All these years later we say that there are a lot of people in this society who want to make a difference. There is another Greece that is fighting for a good purpose, which does not appear on TV, another Greece that is struggling with dignity and strength to make a difference, especially for the more vulnerable group of the population, the children, whatever their skin colour, their religion, their origin.
"Children are equal in this world and we should treat them accordingly. So when a child goes missing, whether it is a gypsy, or Albanian, or a black child, or a Greek child, it is the same for us. We go looking for the child according to the same procedure."

Vassilis Orfanos
Coordinator of Missing Children Response Team, "The Smile of the Child"
"It is very important for us, whenever a child has gone missing, to get notified very very quickly, so we can respond to the incident as fast as we can. This is very important because there is absolutely no time to waste. We should act very fast so that we can reach the area where the child or any other person has gone missing, to carry out the search, with the dogs, to deal with the situation successfully and to save the child and to be by his/her side."
"We act very very fast. We get notified by the hotline number 116000, where people with children in need of help, with children that have gone missing, can call. And this is very important for the operation. That's why we have set up an entire call centre that receives these calls and we react very quickly so that the first team can get to the spot where there is a disappearance and then there is a mobilisation so that more groups of volunteers, such as the Hellenic Rescue Team, or the Red Cross, can get to the area where the child has gone missing and we can take action together with the public services: the Fire Brigade, the Police, the Port authorities, or anyone else.
"The procedure is this: initially, whenever there is a disappearance, someone has to call the Smile of the Child, 116000. The team immediately locates the problem. The hotline team notify the authorities and they notify the initial response team, which is us, from the Smile of the Child. We set off to reach the area, and at the same time all the other groups of volunteers get notified, as well as the public authorities, so that they can come to the area and we start the search for the missing child. What is very important, as I said before, is the time factor. Time for us is precious."