Jordan's Syrian refugee dilemma
Comments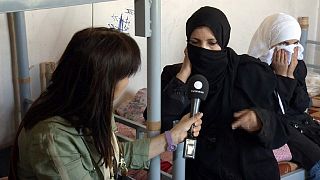 Daraa in Syria, where the uprising against President Bashar al Assad first erupted, is a short distance from the border with Jordan. Every day between 100 to 400 Syrians enter Jordan illegally.
On arrival in Jordan only a few of them will be registered by international organisations. The rest will find other solutions – families, friends or even tribal relationships. In fact these kinds of close links have always encouraged the existence of a Syrian community along the border – a border that was established by Western countries in 1923.
Dr. Omran Mahafza, a professor of international law at Jarrada University in Irbid, Jordan says:
"The information from this part of the border isn't accurate because each side gives different figures.
It is difficult to very check because the Syrians are spread all over Jordan. There are very strong ties of all types between the two peoples."
Cyber City and Beshabsheh – close to the border village of Ramtha – are very small ' transit centres' where international organisations and NGOs give aid to people for a period of only one to four weeks. Longer term assistance is offered by people from Jordan.
Jens Hesemann, a senior field coordinator with the UNCHR says: "The first option is really based on the generosity of the Jordanian people. These people live in the host community. We see this assistance option already happening since the crisis started last year and there are many Syrians staying in the host community."
"The second option, in case people cannot stay with the host communities, or with families in rented appartements, we find an existing building where we create transit sites."
International Organisations and the Jordanian governement avoid the establishment of traditional 'refugees camps'. Firstly for humanitarian reasons, and secondly for political reasons. As a result there are no precise, independently verifiable figures for the number of refugees.
Dominique Hyde, a UNICEF representative in JORDAN says: "In other countries there are real refugees camps, and people are in their camps and they stay in their camps. But in Jordan there's an approach that has already well worked for Iraqi refugees because they are integrated into the communities. In Turkey there is a different language, but in Jordan there are the same families , same tribes, so that's why integration works well here.
The number of Syrian refugees has increased dramatically during the last weeks. Every night between 70 and 300 people cross this 'green line' illegally. Since the beginning of the crisis at least 100,000 people have crossed the border, 50,000 of them are vulnerable, half of them children. All of them need assistance.
One Syrian woman arrived nine months ago with her husband and six children. She says she left the country as soon the uprising began so that her children didn't have to live in the horrors of war.
For the equivalent of 160 euros Amman Fatima has temporarily rented a nice apartment – much
cheaper than the usual price – from a generous Jordanian woman who is away in Saudi Arabia.
To make some money she sells prepared meals that she has cooked herself to her neighbours, while her husband works on daily basis in differents jobs.
A huge number of the Syrians who enter over the border don't have an official status, they are just 'guests'.
Economic factors aside, there is also another problem that the Jordanian government is hoping to avoid. They see in conflict-ridden countries a trend of Islamisation and they fear that if they take in too many refugees this will spead to Jordan.