French politics silent on women
Comments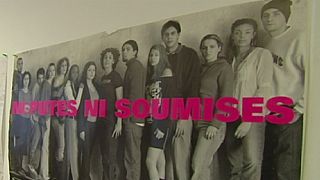 Less than a year ago, on 14 May, the Dominique Strauss-Kahn (or 'DSK') scandal exploded. Numerous commentaries came out of it, notably about the place of women in politics and more broadly in society. Journalist Ariane Tilve reported on what is left of that debate now, with the people of France preparing to elect their president, and on where male-female parity in France stands.
With allegations that the French former head of the International Monetary Fund had raped a woman hotel employee in New York about a year ago, came a crop of sexist reactions. A well-known French journalist dismissed the alleged act as, "just a quick one with the maid". Equality of the sexes was debated for a while, including paying women in France about three quarters of what men are paid for the same work, on average, and the scarcity of women heading companies.
Ariane Tilve asked Olga Trostiansky, the head of the Paris-based gender parity observatory and coordinator in France with the European women's lobby, about the impact of the Sofitel rape and other allegations still in progress surrounding Dominique Strauss-Kahn.
Tilve: "Have the DSK cases, without going into the details of the scandals, made it possible to bring feminist questions to centre-stage in the media?"
Olga Trostiansky: "The DSK tsunami got France talking in every household. Some intellectuals, French men, also reacted, some to support and maybe even to protect Mr Dominique Strauss-Kahn. All these reactions and this speaking out made people talk at home. I believe it's very interesting that men and women became aware of the existence of sexism."
Tilve: "You regularly publish surveys about equality questions. What kind of information do these studies produce, what are the opinions of French people about this subject?"
Trostiansky: "Men and women, for the first time in France, admit that they do practise sexist stereotyping. This is completely new. Before this, in France, we would say: 'other people do that, but I don't.'"
While some lobby groups concentrate on gender parity in French institutions and companies, other associations also deal with physical and psychological violence against women – and frequently deadly force.
The French feminist movement 'Ni Putes Ni Soumises' (meaning Neither Whores Nor Submissives) fights many forms of social pressure applied to women of all faiths and ethnic origins, among them: murder, widespread and frequent sexual assault and gang-rape. Asma Guénifi points out that, after all the controversy raised around DSK, French politicians have gone back to mostly ignoring the burning social issues.
Asma Guénifi: "We were astonished that none of the presidential candidates are talking about violence towards women – even though the scandal gave women a voice, raised a media storm on the subject. Yet not one of the candidates picked it up."
DSK stirred notoriety because he was powerful. He was even the French Socialist party's choice of presidential candidate before the New York scandal. Most abuse in France involves ordinary people weakly defences, by lack of education, employment and financial dependence.
Guénifi: "Don't forget that in France, every two days a woman dies at the hands of her male partner! In France! In 2012!"
Last year, in the Paris region alone, the organisation Ni Putes Ni Soumises gave safe refuge to more than 4,000 women. In the vast majority of cases, compounding the physical threat, they are economically and culturally vulnerable.
Gabrielle Apfelbaum, Ni Putes Ni Soumises Communications Director: "There is a big problem in France not having enough shelters to provide a safe environment for women. They often end up in hotels or bedsits, in very difficult conditions, what's more is that it's very expensive and the State pays."
Only ten percent of 75,000 rape victims each year register formal complaints, according to associations. They say France is well behind on tackling this. We went to find out why, given the media saturation surrounding DSK, the presidential candidates have been so quiet. Activists and critics say there is a gap between the French national slogan, 'Liberty, Equality and Fraternity' and reality. So we asked a sociologist and national researcher specialising in gender: surely voters are not really so uninterested in fighting domestic violence? Christine Delphy remains sceptical.
Christine Delphy: "The voters really want to look as though they are doing something without actually having to make any effort. Look what just happened with Osez le féminisme (Dare to be feminist) – and I'm not against it – They got the word 'mademoiselle' or 'Miss' taken off official documents. Now there's a good reform, because it doesn't cost anything. All you do is take a line off the form. You even save ink.
"In Spain, for the last 15 years, each time a woman is murdered by her partner, it makes the front page of the newspapers, and the neighbours take to the streets and it is shown on the television. Do you see that happening in France? No.
"Any advances of this kind are being hampered by racism. Racism against Arabs means all the evils of the earth have been laid at their door, particularly sexism. As a result, Caucasian men see themselves as highly superior. It is like saying that it is only Arabs who are sexist, it is only Arabs who gang-rape women, and they are the only ones who are featured in the media. People only remember women with Arabic first names who are killed by men who also have Arabic first names. And yet, the majority of the 170 women who are killed in France are not 'Soanes' or 'Sheherazades', they are 'Moniques' and 'Catherine's, killed by 'Michels' or 'Pierres'".
Ignoring sexual violence is not to ignore scandalous behaviour, activists say: it means ignoring crimes – in all social classes; this adds further to suffering; it also suggests to rapists that they can get away with it, and suggests to the victims that they cannot count on being listened to or on being protected by society.
Tilve concluded: "Equality and the campaign against domestic violence remain battles that are far from won in France, no matter who wins the upcoming election."